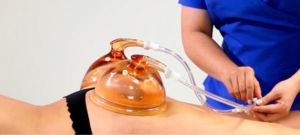 Vacuum
Time: 30-45 minutes 
THE BRAZILIAN BUTT LIFT VS NON-SURGICAL BUTT LIFT
Are you looking for a non-invasive method to give your derrière a desirable lift? If that's the case, the vacuum butt lift may be the key to achieve the butt you've longed for. This pioneering new technology has myriad benefits, such as lifting the buttocks, tightening loose skin, and reducing cellulite.
With a vacuum butt lift, you can firm your behind without needles, incisions, or other invasive techniques. Women and men choose vacuum butt lift therapy to contour their backsides when diet and exercise haven't worked
VACUUM BUTT LIFT 
Essentially anyone is a good candidate for vacuum butt lift therapy, because it's non-surgical. People choose this option to attain:
● A firmer and rounder butt
● Smoother skin
● Less dimples and cellulite
● Enhanced self-confidence
The primary alternatives are surgical butt lifts and implants, which require significantly more downtime and time off of work and life's responsibilities. These surgeries also carry potential health risks, as they're performed under anesthesia. One of the most common surgical procedures for lifts is the Brazilian butt lift (gluteoplasty). It comprises two parts: 1. Harvesting, which extracts fat that will be transplanted into the buttocks, and 2. Grafting, which injects that fat into the buttocks.
According to Healthline, "A Brazilian butt lift may carry fewer risks compared to other surgeries, such as silicone buttock implants. Still, as with any surgery, this procedure carries the risk of side effects — some very serious." These include:
● Infection
● Scarring
● Pain
● Lumps under the skin in the areas suctioned or injected
● Loss of skin in the treated areas due to deep infection
● Fat embolism in the heart or lungs
The risk of side effects from surgery is why many candidates are opting for the vacuum butt lift instead. With today's technologies and advances in this field, you can achieve desired results much more safely and naturally.
HOW DOES THE VACUUM THERAPY BUTT LIFT WORK FOR YOUR BODY?
Even if we had an attractive derrière during our younger years, our skin begins to droop and sag over time as it loses elasticity. If your butt appears less toned, or you simply weren't genetically-gifted with a round and smooth bottom (like most of us), vacuum butt lift therapy can offer a much-desired boost. It's great for fat removal as well.
Our spa, based in Las Vegas, uses clinically proven technology to lift, tone, and tighten the buttocks. Our procedure is a fraction of the cost of a surgical procedure like implants. It's also  proven to be safe, effective, and requires no post-surgical downtime.
The combination of technologies dissolves the stubborn fat pockets that cause dimpled skin, and repositions some of the malleable fat for a more desired appearance. Broken down fat is then deposited naturally through the body via the lymphatic system (for more information about the lymphatic system, check out our article about Wood Therapy).
Following your initial treatment, you will notice an enhanced curvature of your buttocks. The suction device redistributes fat cells immediately, although you will continue to notice results as your lymphatic system filters out fat deposits.
Key benefits of vacuum butt lifts include:
● Lifts your buttocks
● Enhances tone and shape
● Reduces cellulite through fat removal
● Tones and tightens skin
● Improves blood circulation
● Increases production of collagen and elastin
● No surgery, pain, down time, anesthetic, or harmful side effects
● Instant results
WHAT HAPPENS DURING TREATMENT?
Vacuum butt lift therapy employs suction to reshape and tone your butt. The device contains two suction cups that fit over each side of your buttocks. When the vacuum is activated, it creates a seal for approximately 30-40 minutes. The suction power increases blood flow to the area, while ultrasound waves break down fat deposits and stimulate the production of collagen and elastin. This therapy is painless, safe, and highly effective.
HOW MANY SESSIONS DO I NEED?
Our patients receive maximum benefits with 8-12 treatments. During your consultation, we can discuss a treatment plan that will meet your specific needs. We recommend two maintenance treatments per month after the original treatment.
HOW LONG DO RESULTS LAST?
The results last up to one year. Like any other cosmetic treatment, results are not permanent. We recommend healthy nutrition and exercising to maintain tone and tightness in between sessions.
SIDE EFFECTS OR DOWNTIME?
Occasionally patients experience redness, minor bruising, or numbness. However, these symptoms are temporary and clear up quickly. Because the vacuum butt lift treatment is non-surgical and non-invasive, you can return to normal activities immediately following a treatment session. This therapy is often called the "lunchtime butt lift" because it's completed in less than an hour and there's no resulting downtime.
For more information about our treatment options book a free consultation.